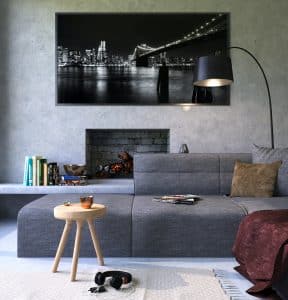 In our last three posts, we shared ways to maximize your kitchen, bathroom, and closet spaces in your rented home or apartment. As always, we'll provide a short summary list of our favorite suggestions and at the bottom of this article, you can find some videos that go into further detail and help you visualize what these changes might mean for your space.
Furniture: The difficult thing about renting is that not every piece fits every room.  Maybe a couple of loveseats instead of a large three-seat couch?  Maybe a few comfy recliners will help you utilize the space. Sometimes you'll need to consider selling old furniture before moving and use the funds to purchase new furniture to fit your space. Most of us can't afford new furniture regularly, but if you sell on Facebook Marketplace, Craigslist, or some other sharing app then you may be able to find the pieces you need for your space at a good price.
Furniture with feet: Getting taller legs on your furniture will free up space underneath your furniture for some storage units or else will allow light to pass underneath your furniture thus making the room feel larger.
Entry points: If possible, arrange your furniture in such a way that there is more than one entry point into the living space. This keeps the room from feeling cramped even if it is small.
Curtain Height: Hang your curtains as high as possible, this will elongate the wall visually and make the room feel larger. As a renter, this might be something that needs to be discussed with your landlord first as it might require modifications.
Half-open shelves: This allows storage pieces to serve some aesthetic function as well as their storage function. Rather than simple bookshelves, find something with drawers at the bottom that will allow you to conceal the clutter while also allowing you to decorate on the open shelves.
Find furniture with storage: Some ottomans, coffee tables, and entertainment centers offer a lot of storage in addition to their primary function. Consider one of these as they don't make you choose between furniture and storage. As an added bonus this does not modify the apartment at all and they are typically easy to pack up when you leave.
Hidden Lighting: Floor and table lamps can take up lots of valuable space. Instead, you can find light strips that can be hidden out of sight while still creating warmth and light to the room without taking up extra space. You can also add overhead lighting if your rental agreement allows it.
Mirrors: Adding mirrors can help you add light to your room and make the space feel larger.
Room dividers: Adding some room dividers can transform one large space from a multi-purpose space into a couple of dedicated spaces that feel more focused.
This vlogger shares 13 space-saving hacks that are easy and affordable:

Here is another video that is renter-friendly and doesn't include repainting: