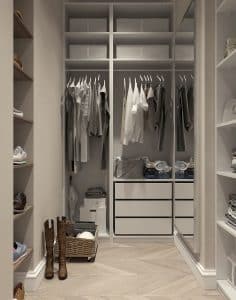 Last time, we shared tips for maximizing your kitchen space. Today we'll pass along some best practices and tips for getting the most out of your apartment's closet space.
Below we've summarized some of the best tips we found.  After that, we share a few videos that we found particularly helpful.
Use under-shelf baskets. This can effectively double your storage space or at least make it so that everything isn't stacked precariously. Under-shelf storage baskets make it a lot simpler to take a shirt off of the bottom of a stack.
Use your space vertically. Both vloggers below strongly recommend this method. Whether you're dealing with toes, tights, ties, or scarves these items can all be stored vertically. Whether you have a large collection of neckties or scarves, you can find a hanger that will hold them all in about the size of any other shirt or jacket.  This saves lots of space and is easier to find what you're looking for than having them all in a storage bin.
Use two poles instead of one. Many closets only have one horizontal pole for hanging your clothes. But that doesn't necessarily have to be the case. Moving one pole higher up and adding another one at waist height you can double your hanging space.  Of course, for renters, you'll want to check or rental agreement or even ask your landlord before making this type of change.
Use slim velvet hangers. These hangers save a lot of storage space compared to the bulky mix-and-match plastic and wood hangers that fill so many of our wardrobes.
Stackable shoe shelves. Most people own more than a couple of pairs of shoes and stackable shoe shelves will save all kinds of space and keep your floor from getting cluttered with shoes. The great thing about stackable versions is that you can keep stacking more racks until all shoes are accounted for!
Use Space-Saving Hangers. Lots of companies sell hangers that make use of vertical space. Pants can be folded over each other and stacked vertically. Some collapsible hangers will expand to show you your shirt collection but will fold down vertically when not in use.
Use foldable boxes. In lieu of adequate dresser space, you can purchase collapsible boxes that will go on any shelf or space and can be organized much like a dresser would be.
Use clear storage containers. Whether it is jewelry, watches, sunglasses, or cuff links, storing in clear plastic containers makes it easy to know which box to grab rather than pulling out everything you own each time you need something.
Use under-bed storage. For off-season clothing, you can purchase sweater boxes or even generic Tupperware to store certain clothes items under your bed.
For quick tips, you can watch this HGTV video that shares six tips in under 90 seconds.
For a bit more of a deep dive,you can watch this 13-minute video from vlogger Drusilla Shay.