Cincinnati Attractions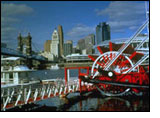 Founded in 1788, Cincinnati is located on the banks of the Ohio River in the southwest corner of Ohio. With its lovely hillside landscape and riverfront views, the city offers turn-of-the-century homes and modern suburbs. Home to Fortune 500 companies, such as Procter & Gamble, General Electric Aircraft, Kroger and Chiquita Brands International.
On the entertainment side, there's plenty to see and do from baseball and football games with the Cincinnati Reds and Bengals to concerts along the riverfront. The city also boasts outstanding college teams sports from the University of Cincinnati and Xavier University. The surrounding suburbs host numerous state and county parks offering hiking, biking and canoeing.
Throughout the summer and early fall, there's plenty to celebrate — from the annual Labor Day Riverfest fireworks demonstration and the nation's largest Oktoberfest to the historic Tall Stacks riverboat festival and the Taste of Cincinnati. And, art lovers will enjoy The Cincinnati Symphony Orchestra, Ballet and Playhouse in the Park.
Things to do and check out in Cincinnati
For additional information about Cincinnati, including news and upcoming events, check out Cincinnati.com.