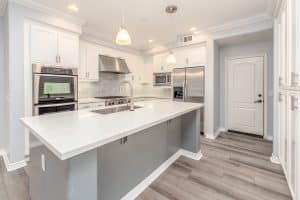 Have you ever thought about getting a bigger apartment space for all of your stuff? That is, of course, the simplest solution, but it isn't always practical with rent prices rising all over the country. Some folks who planned to move into a bigger apartment are realizing they prefer to make the most out of the space they have. Today we'll look at how to get more space out of your apartment's kitchen.
Organize Your Kitchen
If you have 20 minutes, you can watch this video:

If you prefer to summarize here is what they had to say:
Use Your Refrigerator: There is often unused space on top of your refrigerator and it is a great place to store single-use appliances. Whether it is a rice cooker, instant pot, or crock pot, it is something that you probably don't need to take up permanent counter space.
Make the Most of Your Walls: If you don't have enough drawers to store all of your spatulas, spices, and towels then you can easily find wall racks and hooks for such things. Just be sure to check your lease to make sure you're ok to make these types of modifications.
Stacking Silverware: The video host recommends a Joseph Joseph silverware organizer that stacks forks, knives, and spoons thus saving lots of drawer space that can be used for other things.
Use Vertical Space: Over-the-cabinet baskets require no modifications to your apartment and can help you store more in your cabinets. If you're allowed, you can also put some hooks on the walls of your cabinets so you can hang items from the sides of your cabinet rather than stacking everything from the ground up.
Pan Positioning: Using command hooks is a simple way to organize pans. But there are also specific racks that can be purchased affordably for organizing lids and frying pans. The trick is to keep everything accessible while using as little space as possible.
Get Coffee Out of the Kitchen: A mobile cart or wire rack can be used to set up a coffee or barista station anywhere in your home. If there is a hallway with a little extra space or a corner of the dining room then you can set up your coffee, tea, mugs, and accessories in one place that isn't your kitchen.
Pantry Space: Some apartments have small pantries, and some have none at all. Many of us stockpile food for a rainy day, but doing a regular audit of your food can help eliminate expired or stale items that free up space for things you'll use. Some spices can go months without use and you may find it is better to buy smaller quantities and or purchase fresh spices when you need them.
Storage on top of cabinets: Most kitchen cabinets do not go all the way to the ceiling. That makes them ideal for storing things that are used regularly, but perhaps not every day. Large jars of flour, sugar or canned goods can be stacked there. It makes it easy to do a quick visual inventory and a step stool is very accessible.
Coat Closet: If you find that having a garbage can or recycling bin in the middle of your walking space is cumbersome then consider moving it into a closet or somewhere a bit more out-of-the-way. No one likes running into it when they're trying to cook and if two people are using a small kitchen then you probably don't have space for a trash can on the floor.
We hope this was helpful and look forward to passing along more tips for maximizing the space in your apartment!