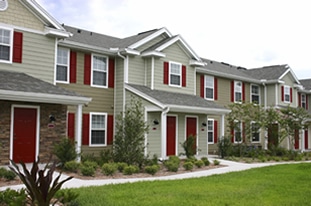 Townhouses appeal to renters for their single family home feeling with multiple floors, individual parking spaces or garages, low maintenance responsibilities, and a shared wall with another home.  There is a regular inventory of townhouse properties in Cincinnati to rent, but how do you know if it is right for you?
Additional Space
Townhouses offer more living space than a traditional apartment and commonly feature a yard, kitchen space, separate dining space, and two to four bedrooms.  
A townhouse and the land it is on is owned entirely by the homeowner.  Even if just a smaller plot, the land and surrounding area the townhome is built on is part of what the renter rents.  So if you want more outdoor living space than what an apartment has to offer without the responsibility of a bigger home, a townhouse could be the perfect fit.  Enjoy the additional space for a pet, a small garden, entertaining, or playing area for children.  
Lower Maintenance Needs
Townhouse properties require lower maintenance needs than the historically single-family home.  Obviously space is the main factor, but additionally if the townhouse is part of a neighborhood with a homeowners' association all external maintenance, parking lots or shared driveways, and other common areas will be the associations responsibility.  
Sense of a Community
Because of the closeness in proximity of townhouse properties, neighbors tend to get to know each other well and bond.  Due to this closeness, residents tend to have sense of protectiveness and larger community feel.  Also townhouse communities are typically well lit and may even have a security gate, increasing renters sense of security.
Amenities
Townhouse properties located within communities will feature amenities that renters can partake in.  Amenities may include playgrounds, pools, tennis courts, dog parks, clubhouse, or other recreational common areas.  These are all maintained by hired staff or contractors as part of the homeowner association fees.  Of course check your lease to ensure they take part in these offered amenities before assuming they are included in your renter's agreement.
Lower Utility Costs
Townhouses will normally have lower utility costs than a typical single family home.  Mainly due to the square footage being used, but also the sharing of a wall between the two townhouse properties helps to prevent heat loss.
Newer Construction
Townhouses are usually newer construction than apartment buildings or even homes in the area.  As a townhome renter, you can enjoy the benefits of this new construction with better efficiency (lowering your utility bills), fancy upgrades like granite countertops, hardwood floors, or stainless steel appliances, and not having to hassle with older home issues requiring additional maintenance.  As a buyer, you may not be able to afford a newer construction home, but as a renter you can.  
Rent a Townhouse Property in Cincinnati
Townhouses are a good solution in many circumstances for a renter.  Whether you are desiring larger living space options, looking for more security, the luxury of amenities, or something else.  Cincy Rents offers an array of townhouse properties in Cincinnati, browse our inventory to find the right one for you!